There is still a long path to gender parity in the literary world – not to mention the artistic world in general – but with FLAWA festival and this fanzine we are adding our star to the constellation of initiatives that womxn are doing around the world.
Silvia Rothlisberger, Literary South
Edited by FLAWA Literary director, Silvia Rothlisberger of Literary South, the Latinx Literary Fanzine is a physical collection of the literary events from FLAWA festival 2019.
Featuring works from the eight female and gender diverse Latin American poets who performed during the festival, a short interview with each artist, poems created during the festival workshop and highlights from the two literary Q&As, this zine is also invigorated by new works of illustration by Mitucami Mituca and Francesca Tiley.
We launched the zine in September at the Bread & Roses, with an open mic poetry session and music from FLAWA collaborator  DJ Amancai. Guests also enjoyed a fascinating Literary South interview with Brazilian author Luiza Sauma about her second novel 'Everything You Ever Wanted'. You can listen back to the episode, which covers privilege, depression, online dating, being a millennial in the literary sphere and science fiction, below.
We also sold copies at the wonderful London Spanish Book & Zine Fair in early October, alongside friends from La Tundra, De Lujurias y Musas, Feminist Library, LAWRS, El Ojo de la Cultura and many, many more.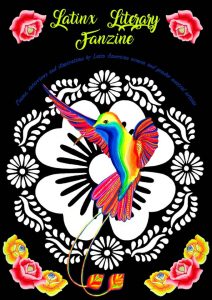 Listen back to the Literary South interview with author Luiza Sauma here: