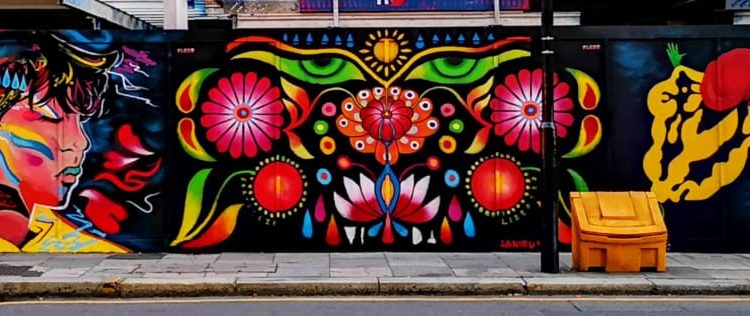 We have curated 3 artists to participate at the London Mural Festival creating a colourful 12 Mts mural to reflect the nature and culture of Latinamerican artists.
The mural is a collaborative work made by 3 LatinAmerican artists dedicated to women and nature. Vanesa Moncayo (Colombia), Janin Pineda (Colombia) and Tiz Creel (Mexico) used different elements of the Latinamerican culture to create a colourful piece in the middle of Goswell Road, EC1V 7DB.
Vanesa Moncayo (@Vane_MG) was inspired by the innocence and strength of the Woman. She mixed natural aspects of the colombian culture with an urban style to reflect her experience in London. Janin Pineda (@_janiru) based her composition on women's and nature's cycles to represent the origin of life using elements from pre-Colombian culture. Tiz Creel (@Tizcreel) took inspiration from the magical realism of Mexico to tell a story of magic and life. 
This mural is part of the London Mural Festival, a new festival in London that welcomed over 150 artists from around the world, painting 50 plus large-scale walls across the capital.
The mural will be up for a couple of months, don't miss it!
Supported by: Arts Council, Global Street Art and the Mexican Embassy in London.